So tonight I finally am seeing the proverbial light. At least as far as the mech part of my army goes... As long as I don't think too much about the 22 Space Marines left to paint... Anyway...
Here's a group shot showing my progress:
And if you think you see some blue in the sea of orange, you must have spotted my banner...
So of the seven vehicles, two are 100%, my Razorbacks: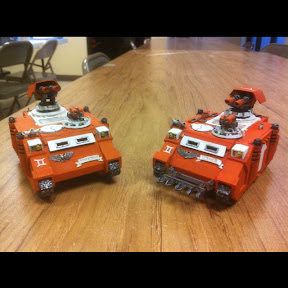 The two Rhinos are about 95%, needing just some paint on their storm bolters...
And the two Vindicators are at 90 and 80% from left to right...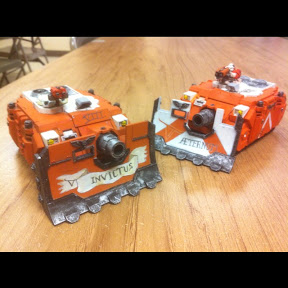 And the Predator is still at 60%... playable but not nearly done.
This week's goal is to finish the vehicles, and assemble all the marines, that way my army can be played, even if it's not painted 100%...
How do you keep yourself motivated when painting? I know I struggle sometimes...
Until next time...
- Posted using BlogPress from my iPhone