Ok, home stretch for the motor pool.
Today I focused on my heavy support Vindicators and Predator, prepping all of the metal surfaces with a black basecoat. Quite a pain, but hopefully all that work will pay off when I drybrush Boltgun Metal over it...
Here's Invictus...
and Aeternus (finally, a name!) got its dozer blade design as well as metal prep...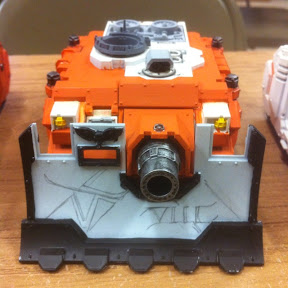 Of course the blade isn't attached yet...
And finally, my Predator (rats, another name needed...) got a little love...
The sponsons and main cannon are magnetized so I can switch configurations if needed...
Ok, time to wash the black paint from my fingers, and tomorrow we focus on metal and white surfaces...
- Posted using BlogPress from my iPhone